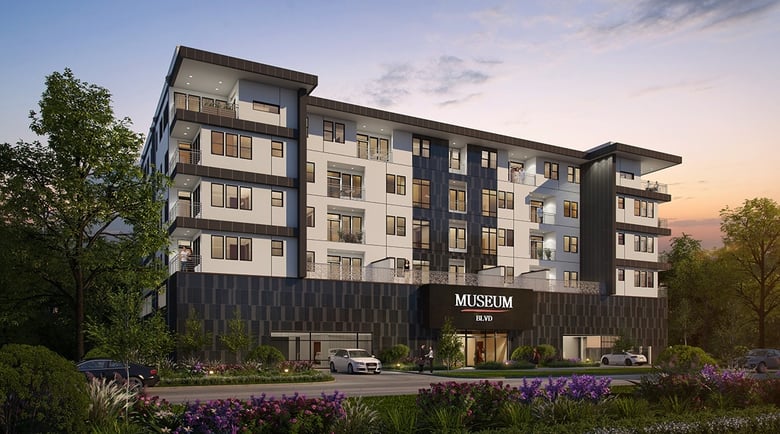 Architectural style developed through advanced market research
PRESS RELEASE
HOUSTON – (April 28, 2017) – Surge Homes® debuts the final exterior rendering for its Museum BLVD condominium development, which is in the heart of Houston's Museum District. Located at 4819 Caroline St., Museum BLVD is an $11 million, 49-condominium, mid-rise development whose design was determined after submitting numerous architectural styles to nearly 3,500 potential Houston homebuyers.
A modern, mid-rise, Museum BLVD has a building envelope composed of stucco featuring a façade with ceramic tile patterns that add visual flow and architectural interest, both horizontally and vertically. While most homes include a balcony or terrace, condos on the first floor offer expanded outdoor living spaces with modern, artistic railings created from laser-cut metal.
The building's patterns are reminiscent of the modern shapes and colors found throughout the architecturally rich Museum District. "We selected the most popular design from our market research and, over several months, refined it with our architect," said Ben Lemieux, co-owner of Surge Homes. "We are very proud of the results because it marries the modern construction of many museums in the area."
"We had no choice but to attempt designing a piece of art, considering the neighborhood," added Louis Conrad, co-owner of Surge Homes. "We wanted to create perfect harmony between form and function."
The building offers gated, reserved parking in the garage and secure access through the lobby and parking areas. With its surroundings top of mind, architects made every effort to create and maximize an integrated landscape design, including moving visitor parking into the garage from the front of the building to provide more greenery.
Prospective buyers of Museum BLVD condos can choose between 10 floor plans, including lofts, one-and two-bedroom homes, and penthouses with large terraces and skyline views. Living spaces range from 466 square feet to 1,102 square feet and homes are priced from the $140s to the $350s.
Later this year, Surge Homes will launch Museum BLVD condo sales exclusively to its VIP Certificate holders, who will choose their favorite home type and floor plan before residences become available for public sale. Due to the project's popularity, VIP Certificate sales achieved the maximum quota in less than four months.
All Museum BLVD condos include luxury, all-inclusive, European-inspired interiors with an impressive choice of 41 professionally coordinated kitchen design packages and 29 bath design packages. Each home is move-in ready with all kitchen appliances, and washer and dryer connections. Surge Homes also provides new homeowners with a Quality Assurance Program including a 10-year transferable Home Buyers Warranty and a Master Insurance Program for the duration of the 10-year warranty.
– 30 –
About Surge Homes
Surge Homes, voted Developer of the Year by Houston Agent Magazine's 2016 Agents' Choice Awards, is a residential real estate developer and builder committed to providing brand new homes in nine communities that feature stunning architecture and cutting-edge interior designs in and around Houston's urban core. The company was one of five nominees for Homebuilding Innovator of the Year in Construction Dive's 2016 Dive Awards. From land development and construction to sales and marketing, Surge Homes is involved in every aspect of creating these new homes, which are located in the most desirable inner city areas. Louis Conrad and Ben Lemieux, co-owners, and David Modlin, vice president of development and construction, each brings more than 28 years of experience in real estate development, management and consulting. Their previous developments total more than 4,000 homes and include master-planned communities, houses and condominiums throughout the U.S. And Canada.