About SURGE HOMES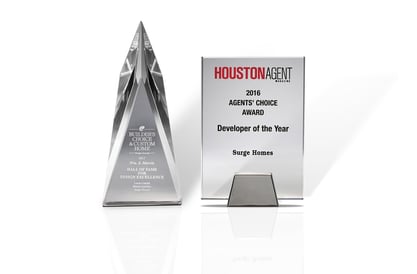 Surge Homes® recently was inducted into the William S. Marvin Hall of Fame for Design Excellence by BUILDER magazine and was a finalist in the NAHB 2017 Multifamily Pillars of the Industry Awards category for Best Condominium Community. Additionally, in 2016 the company was recognized as Houston Agents' Choice Award Developer of the Year and was selected as one of five national nominees for Construction Dive's Homebuilding Innovator of the Year. The company is a Houston-based residential real estate developer and builder committed to providing high-quality, brand new homes and condos in Houston's Inner Loop. The condominiums, townhomes and single-family homes built by Surge Homes feature stunning architecture, cutting-edge interior designs and a comprehensive warranty program.
Members of the company's leadership team – Ben Lemieux and Louis Conrad – each bring more than 28 years of experience in real estate development, management and consulting. Combined, their previous developments total more than 4,000 homes and include master planned communities, houses and condominiums throughout the U.S. and Canada.
Focus on Quality
Surge Homes® is committed to quality. Where Quality Meets Design® is not just a slogan but a philosophy implemented in every aspect of the business. Meticulous processes ensure that each and every homeowner who purchases a Surge Homes® residence is guaranteed management accountability and the finest quality in materials and workmanship. This dedication is evidenced by the company's willingness to go one step further as a builder and include a comprehensive Quality Assurance Program —the only one of its kind among Houston's Inner Loop properties—with each new home. The three-layered program provides:
Surge Homes

®

Quality Process: Five steps to ensure quality design and construction of each new residence
A 10-year, Home Buyers Warranty (transferable)
Master Insurance Program guaranteeing all home construction is insured for the duration of the 10-year warranty
Home buyers can be confident in a purchase from Surge Homes® and know that their investment will be protected for many years.
Exclusive, Central Locations
Surge Homes® is developing and building five different properties throughout Houston's most sought-after market, the Inner Loop. The company's unique take on developing these communities provides potential home buyers with the best of both worlds: exclusivity at affordable price points. Space is maximized to offer smaller floor plans that allow for the use of fewer materials while maintaining quality and resulting in a lower overall cost, which is passed on to the home buyer.
Surge Homes® offers brand new residences at a significantly lower cost than the median home values in the areas in which they are building, thereby providing a unique opportunity for potential home buyers to own in prime urban neighborhoods that otherwise might be unaffordable.
Innovative Designs
Prior to beginning development on its nine communities, Surge Homes® initiated an innovative, crowdsourcing design process involving potential home buyers, neighbors and the community. Nearly 3,500 participants (online and in-person) provided input on what Surge Homes® should build on each of its sites. A wide variety of classic and never-before-seen home types, floor plans and interior designs were proposed to the participants so that they could rate their preferences, which ultimately determined what Surge Homes® would offer in each and every residence. The premium kitchen and bathroom designs, which are included with every base design package, are unique to Surge Homes® and showcase cabinetry by award-winning European manufacturers. An exclusive agreement with the cabinet manufacturer guarantees these designs and finishes will not be found with any other builder in the Greater Houston Area.
Leadership
Surge Homes® is owned by Ben Lemieux and Louis Conrad, long-time business partners and friends since college. Although the Surge Homes® brand is relatively new to the Houston market, its roots go back to 1989 when Serge Lemieux, Ben's father, bought his first multifamily property in Houston and Ben began to manage real estate in the city. Twenty-five years later, Ben is executive chairman of Surge Homes and president of the Lemieux family business, LSR Communities, a North American real estate company that owns and manages 2,500 apartment homes in Houston and Florida and employs 100 people.
Louis Conrad, president of Surge Homes®, began his real estate career in Houston in 2000, upon graduation from The University of Texas at Austin McCombs School of Business. As a consultant and developer/partner, he participated in creating more than 60 residential communities of all sizes located in the U.S. and Canada. From 2009 to 2013, Louis was vice president of operations and marketing at DevMcGill, a prominent mid-rise and high-rise condo developer based in Montreal, Canada. He is still an investor in many DevMcGill projects.