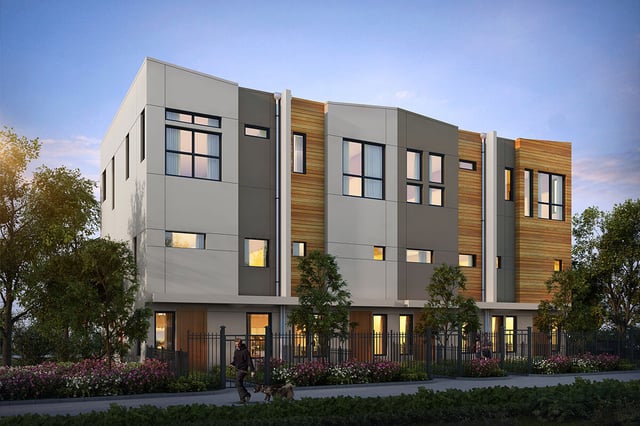 Parc at Midtown offers ease of access to numerous amenities.
HOUSTON—According to the National Association of Realtors, being in a walkable neighborhood is one of the most important community variables for buyers. Parc at Midtown sales have reached 75%, due in part to the walkability of the development. It earned the distinction of being named the fastest-selling attached new residential subdivision in Harris County by Meyers Research LLC in August 2016.
Parc at Midtown, a Surge Homes development, has a walk score of 87 out of 100, making it one of the most walkable communities in Houston. This high score is expected to play a role in the amplified demand and value of townhomes and condos in the thriving Midtown neighborhood.
"Most Houstonians depend on vehicles or public transportation to maneuver through this great city. One of the reasons we selected the site at 2401 Crawford St. for the development of Parc at Midtown was because this coveted area offers ease of access to so many amenities," said Ben Lemieux, co-owner of Surge Homes. "We wanted to provide homeowners with a walkable option in Houston's Inner Loop and the rapid pace of home sales tells us we made the right choice."
Nearby transit includes the 700 METRORail Redline Northline at the McGowen station NB stop, GlobeSt.com learns. The development's walkability is enhanced by its proximity to restaurants, parks, nightlife, stores and art galleries, all within a 10-minute walk. Additionally, this development offers its residents an exclusive park spanning 5,000 square feet located in the center of the community. Nearby parks include Baldwin Park, Emancipation Park and Root Square.
The 1,530-square-foot townhomes on the park's perimeter offer direct access from private yards via pedestrian gates. Additional townhomes have 1,347 or 1,368 square feet and feature three bedrooms and 3-½ bathrooms with private, fenced-in yards that offer direct access to the sidewalk via pedestrian gates.
"I believe the six homeowners whose private yards open up to the park will realize not only a great investment in their quality of life but also financially because there are simply no comparable townhomes elsewhere in Midtown," said Lemieux.
Scheduled to begin delivery in April 2017 and priced from $341,300 to $403,300, each townhome includes a two-car garage with a gas connection on the balcony for a grill, as well as floorplans designed to maximize space.
Walk Score's mission is to promote walkable neighborhoods with more biking, walking, enjoying nature and less traffic jams. The organization also provides Walk Score data to researchers and multiple patents pending on its scoring and search technologies. Walk Score shows more than 20 million scores every day and more than 30,000 sites use Walk Score services, GlobeSt.com learns.
For original news article, click here.