Surge Homes reveals renderings for its latest development, The Isabella at Midtown, a $42 million, 163-condominium community located in Midtown. The renderings are a preliminary representation of the building's potential interiors and showcase an array of options and finishes.
The Isabella at Midtown is an answer to the growing demand for pedestrian-friendly, mid-rise living in Houston's Inner Loop. The condos have a host of enviable features, such as large living room windows offering sweeping views of downtown Houston, and profe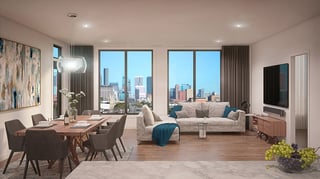 ssionally coordinated kitchen and bath interior design packages.
The interior design packages provide a robust choice of finishes for flooring (such as engineered wood in living areas and kitchens; carpet or wood floors in bedrooms; and ceramic tile in bathrooms), countertops, backsplashes, and wall tiles. The packages also feature contemporary European cabinets exclusive to Surge Homes.
Homeowners will also enjoy an array of other community amenities, such as a state-of-the-art fitness center, owners' lounge (accessible from the pool) with fully equipped kitchen and big screen TV, and an exterior pool with an adjacent hot tub.
True to the innovative development strategy of Surge Homes, The Isabella at Midtown homebuyers have a vast array of floorplan choices and prices:
1 bed/1 bath lofts: 466 square feet; $154,535 to $171,138
1 bed/1 bath: 650 square feet; $190,250 to $213,215
1 bed/1.5 bath: 1,121 square feet; $323,657 to $363,298
2 bed/2 bath: 932 square feet to 1,173 square feet; $263,249 to $393,332
3 bed/2 bath: 1,880 square feet; $579,300 to $620,413
3 bed/3 bath: 1,255 square feet; $377,413 to $419,825

Future homeowners are invited to participate in the one-of-a-kind VIP Reservation Program, an exclusive opportunity to be the first to choose and purchase, at special pricing, their favorite condominium prior to the public sales launch. With the purchase of a VIP Certificate, homebuyers can secure their home while development is being finalized. Surge Homes expects sales for The Isabella at Midtown to follow the whirlwind sales of Parc at Midtown, which was named the fastest-selling attached residential subdivision in Harris County.
"We are developing The Isabella at Midtown to reflect the aesthetic and community preferences of Houston homebuyers," said Ben Lemieux, co-owner of Surge Homes. "For those who are looking for a smart investment, buying in one of Houston's most vibrant and popular neighborhoods is it."
The Isabella at Midtown is located at 4001 Main Street intersecting with Isabella Street, and will be within walking distance to the new Midtown Park.
For original article, click here.