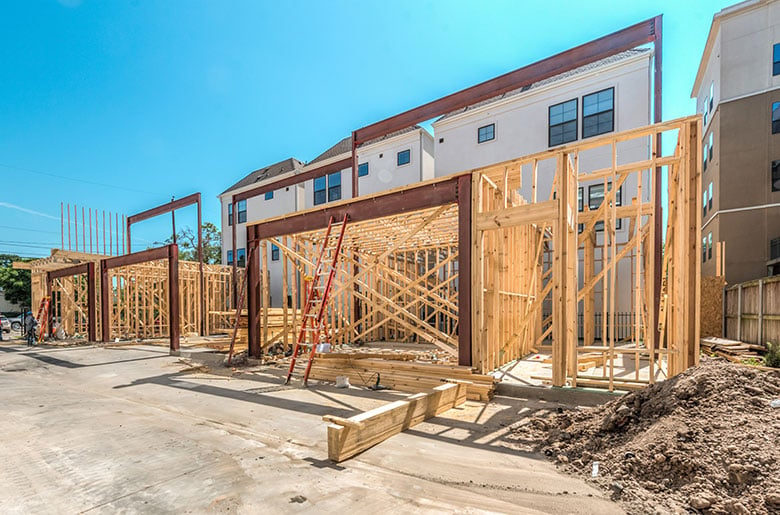 Surge Homes' townhomes and detached homes are known for their superior construction stemming, in part, from the use of steel frames that provide the backbone of the structures.
In an area where most homebuilders rely on wood frames, Surge Homes stands out by relying on more expensive, but sturdier steel frames to create the open floor plans sought by today's homeowners.
"Material and labor for steel frames are significantly more expensive than wood frames," said Louis Conrad, Surge Homes co-owner and president. "But steel provides more lateral stability and allows the building to better handle wind shearing. And with this framing, we create the beautiful open-concept interiors that attract people to our homes."
Steel frames provide the support in townhomes built in Surge Homes' Parc at Midtown and its Upper Richton development in the Upper Kirby area. The steel frames serve as the backbone of the building while wood frames are used to complete the framing and act as the skeleton of the structures, said David Modlin, Surge Homes' vice president of construction and development.
Steel frames are one way that the developer lives up to its slogan Where Quality Meets Design®. The company stands behind its homes and is the only inside-the-Loop homebuilder to offer a multi-tiered quality assurance program. All homes come with an insurance-backed, 10-year warranty from 2-10 Home Buyers Warranty®, the nation's largest warranty program. While the majority of builders in Houston offer warranty programs backed only by their own businesses, Surge Homes goes further and provides a greater peace of mind to its buyers through the additional backing of the 2-10 Home Buyers Warranty®.
The third-party backing is paramount in new home construction because it means that if homeowners are not satisfied with a builder's response, they may call upon the most respected home warranty service in the business. This fully-insured warranty, one of the broadest in the industry, will help homeowners get the most value from their homes upon resale because warranties are transferable to incoming homeowners. In addition, all Surge Homes developments are covered by master insurance programs managed by a professional risk management services provider. This insurance program guarantees that the work of all contractors and subcontractors who take part in constructing Surge Homes residences is insured during construction and after homeowners move in.
Surge Homes stands for quality, innovative design, top craftsmanship and durability. Such qualities can be seen in its inside-the-Loop developments. Upper Richton is an exclusive $8.2 million, 13-home gated community of nine single-family homes and four townhomes. As of today, only two single-family homes are still available at a starting price of $676,000 for a three-bedroom, 3.5-bath residence with upscale interior finishes and French-inspired, classic architecture. Homebuyers appreciate the opportunity to purchase a new home in the prestigious and walkable Upper Kirby District where the average list price of new residences for sale is $1,6. See all Upper Richton MLS Listings here: http://bit.ly/UR-MLS.
Parc at Midtown is a $22-million, 80-home gated community of one- two-, and three-bedroom condos; two-story, two- and three-bedroom penthouses; two-story, two-bedroom Sky Townhomes™; and three-bedroom townhomes. Homes range from $299,000 to $459,000 and give homebuyers the unique option to own a new home in trendy, walkable Midtown. See all Parc at Midtown MLS Listings here: http://bit.ly/PAM-MLS.