June 19, 2018
By: Jen Para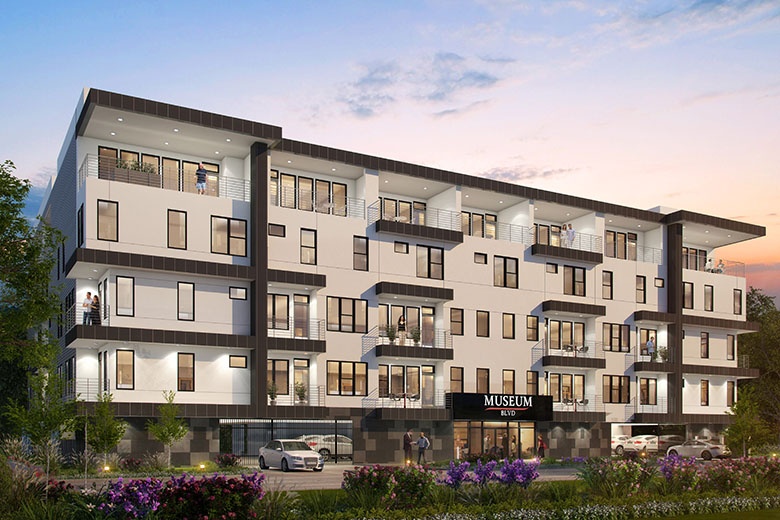 Construction has begun on a 37-unit mid-rise condominium project in the Museum District.
After preselling more than 50 percent of the condos, Houston-based Surge Homes secured construction financing through the Houston office of Dallas-based PlainsCapital Bank to build Museum Blvd, according to a press release. Construction began in May on the $12 million project, which is expected to be completed fall 2019, a spokesperson said.
Located at 4819 Caroline St., Museum Blvd is on an empty half-acre plot of land appraised at $1.2 million, according to records with the Harris County Appraisal District. An entity called 4819 Caroline LP has been the owner since January 2017 and has the same address as Houston-based LSR Communities, owner and manager of multifamily apartments and condominium homes in greater Houston and Palm Beach County, Florida.
Museum Blvd is nestled among other condos, including Urban Flat Builders' Oaks on Caroline, a six-story, 28-unit mid-rise condo at 4820 Caroline St. Prices for those units ranged between $300,000 and $700,000 about a year ago.
Meanwhile, Museum Blvd's prices start from the $220,000s and go to the $500,000s, per the release. The project offers one- and two-bedroom condos as well as two- and three-bedroom, two-story penthouses. The nine floor plans range from 600 square feet to nearly 1,700 feet. Surge Homes is the general contractor, and Houston-based Cisneros Design Studio is the designer and architect.
Surge Homes began the presales process for the project in October 2016. Four months later, the developer said Museum Blvd had attracted more than 100 interested buyers, each of whom put a $1,900 refundable deposit down to reserve the right to purchase a unit. At the time, plans for the mid-rise included units as small as 420 square feet with prices starting in the $140,000s. After Harvey, the developer went back to the drawing board for Museum Blvd to "to review the parking podium, condo size and construction method in order to maintain our price per square foot without sacrificing quality," the spokesperson wrote in an email.
Surge Homes originally planned to offer fewer, but more expensive — $367,000 to $480,000 — condo units at its Caroline Street site but shifted its pricing model down after experiencing brisk sales at Parc at Midtown, another Surge Homes condo project offering more affordable units. They ranged in price from $172,300 to $430,000 at the time. Now 85 percent sold, Parc at Midtown is offering units from about $300,000 to about $470,000, per its website.
Surge Homes was founded by Louis Conrad and Ben Lemieux in 2014 and at the time announced plans to develop 10 residential projects in Houston. The duo "crowdsourced" opinions on each of its design-build projects, tweaking, refining and redesigning some of their initial plans.
For example, in early 2017, Surge Homes said its portfolio will consist of a larger percentage of condos than originally expected.
Including Museum Blvd, Surge Homes has five projects in greater Houston, per its website. The other four are:
Parc at Midtown at 2401 Crawford St. It is an

80-unit condo and townhome community with prices starting in the $290,000s. Move-ins began in November,

per a press release.
The Isabella at Midtown

at 4001 Main St. It is a 164-unit mid-rise condo building with prices starting in the $170,000s.
Upper Richton in Upper Kirby at 2307 Richton St. It is a gated community offering 13 townhomes with prices starting in the $670,000s. The first home delivered over a year ago,

per a press release.
Hampton Heights at 1800 W. 15th St. Plans so far include a five-story building with one- and two-bedroom condos.
For original news article, click here.