Parc at Midtown: Surge Homes successfully integrates two buildings that house tiny condos of less than 500 square feet with two-story penthouses into a development that includes three-story townhomes and an exclusive park -- right in the heart of the city.
---
Demand for small homes in Houston shows no sign of slowing down. Typically located in walkable, transit-oriented urban areas with proximity to greenspaces, retail, dining and cultural hotspots, new homes with space efficient floorplans provide exactly what first-time and some repeat homebuyers are seeking: innovative design at an affordable price. The trend for tiny living is strong and promising as one can see from the many YouTube videos on the subject. The newest development to fulfill these expectations (and many more) is The Isabella at Midtown by Surge Homes®, a brand-new 160+ condominium development featuring one-, two- and three-bedroom lofts, condos and penthouses that range in size from 466 square feet to 1,880 square feet.
Smaller Appreciates Faster
While residential transactions among young professionals and first-time buyers comprise the bulk of activity, thanks to a low cost of entry, there's another great reason small homes are in demand for all buyers: appreciation. Homes that have the potential to appreciate are a signal of a savvy investment, which is a strategy important to cost-conscious millennials, young professionals and empty nesters.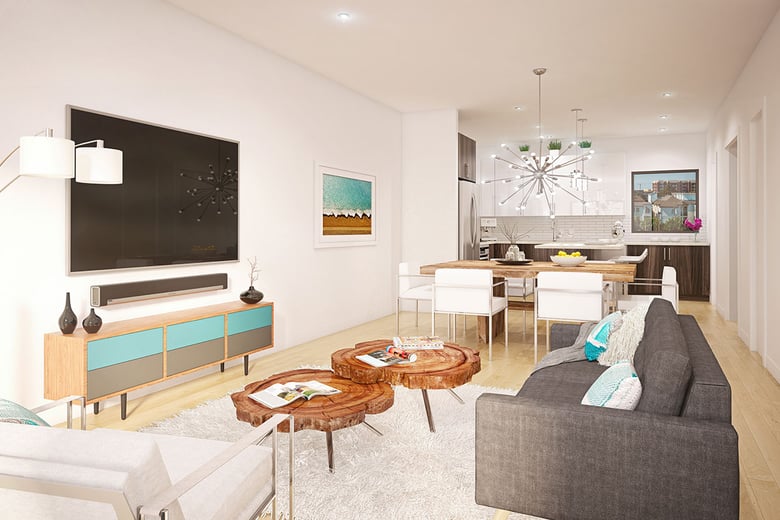 Parc at Midtown: A Sky Townhome™ rendering featuring the open floor plan of a living room/dining room.
From 2013 to 2016, the average median annual growth rate for small homes was 8.9 percent, according to Nerdwallet, which analyzed the performance of 20 metro areas. In Houston, however, the company found that the smallest homes (less than 2,046 square feet) appreciated by 14.5 percent during the same period. That rate is nearly four times the growth rate for the largest homes (more than 3,527 square feet) in the area.
With appreciation trending upward, small home purchases will continue to be in demand and with demand comes development. With sales of condos skyrocketing in Houston's Inner Loop, Surge Homes seized the opportunity to develop another innovative community featuring amenity-rich, space-efficient condos right in the heart of Midtown. On the heels of the incredibly popular Parc at Midtown, which was named the fastest-selling new attached subdivision in Harris County and is now 76 percent sold out, The Isabella at Midtown caters to home buyers who want to live in the thriving, bustling Midtown neighborhood.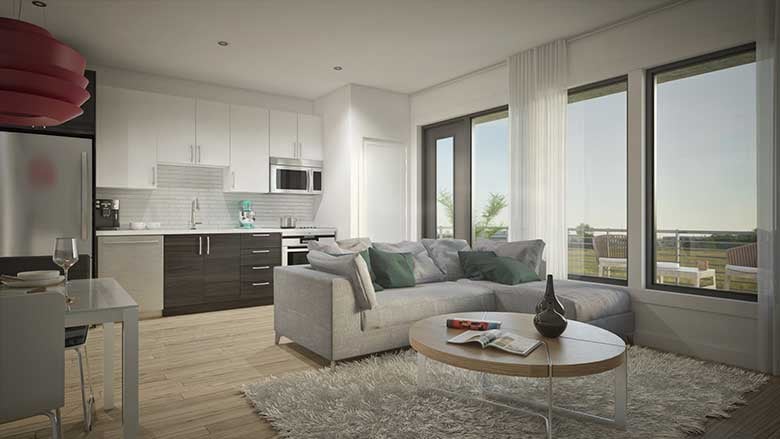 The Isabella at Midtown: A tiny condo rendering featuring an open-concept floor plan of a kitchen and living room/dining room.
Homebuying Made Easy
Surge Homes has streamlined the homebuying process in many ways, from introducing a VIP Reservation Program that give buyers the opportunity to choose and purchase their favorite residence before the public, to building developments based on buyer and community feedback. Surge Homes also recently launched InvestRent, a joint program with LSR Communities to enable potential buyers to apply a portion of their rent from an LSR lease toward the purchase of a new Surge Homes residence. Any new LSR resident, and those current tenants renewing a lease, can participate and contribute 25 percent of the amount paid in rent (up to $5,000) toward a new Surge Homes condominium, townhome or single family home in any one of their developments. Through this innovative program, the transition from renter to homeowner is easy, efficient and affordable.
The Isabella Is the Place to Be
VIP Reservation sales are underway at The Isabella at Midtown - while supplies last. As the popularity of small homes continues, the opportunity to find the right home with the best amenities is now. For a new home located within a short drive or walk from great Houston hotspots and activities, The Isbella at Midtown is the answer for a modedrn, luxury condominium that has it all.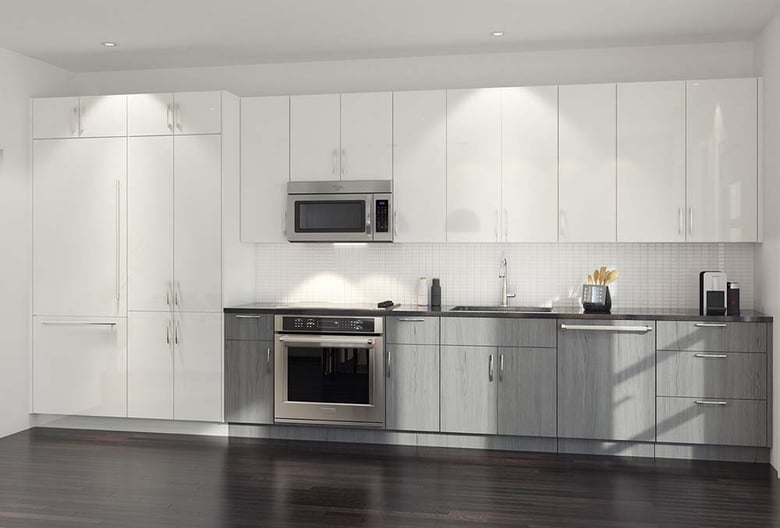 The Isabella at Midtown: Rendering of a tiny kitchen that highlights imported German cabinetry and European finishes.