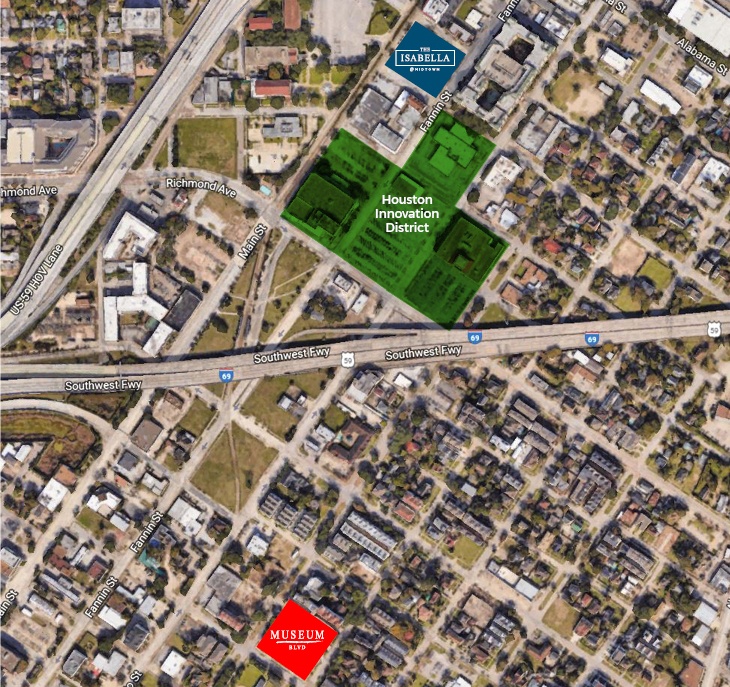 PRESS RELEASE
HOUSTON – May 2, 2018 – The Isabella at Midtown, Surge Homes' new condominium community, is located diagonal to the Midtown innovation district, which is modeled after similar successful developments such as 1871, Chicago's center for technology and entrepreneurship. A few blocks away and adjacent to The Medical Center you'll find where Museum BLVD, another condo development by Surge Homes, will be built. Expected to be complete within the next two years - just like The Isabella at Midtown and Museum BLVD - this campus will be the main artery at the center of Houston's innovation corridor.
Located near the METRORail Red Line, which runs just outside the front doors of The Isabella at Midtown, the innovation corridor will connect downtown to the Midtown innovation district and the new TMC3, a $1.5 billion, 30-acre collaborative research campus at the Texas Medical Center. Houston's innovation corridor will become the Bayou City's own Silicon Valley and will be situated on the site of the old Sears building on Main at Richmond that includes tracts of land totaling 9.4 acres. Thanks to a $100 million investment by Rice Management Company as part of Rice University's endowment, the district is set to become a hub of data science and digital technology focused on energy, industrial, health care and logistics industries, according to David Leebron, president of Rice.
Complementing the commercial space of the innovation district around The Isabella at Midtown will be a vibrant mix of restaurants, entertainment, shops and green space. Homeowners of the condo development will be within an easy stroll of all these amenities, and a quick METRORail ride from downtown, the Museum District and the Texas Medical Center/TMC3. With the Midtown area already a magnet for millennials and empty nesters, the two new campuses also will attract professionals from the technology and healthcare industries, which means owning a home in Midtown will be a great investment for years to come.
"The phrase 'location, location, location' couldn't be any more apropos than in the case of The Isabella at Midtown and Museum BLVD," said Ben Lemieux, chairman of Surge Homes. "Residents not only will enjoy the stylish features of the property itself, but they will be convenient to both of Houston's most exciting and future-oriented developments," adds Louis Conrad, president of Surge Homes.
###
About Surge Homes®
Surge Homes, recently inducted into the William S. Marvin Hall of Fame for Design Excellence by BUILDER magazine, is a residential real estate developer and builder committed to providing brand-new homes in developments that feature stunning architecture and cutting-edge interior designs in and around Houston's urban core. A top-three finalist in the NAHB 2017 Multifamily Pillars of the Industry Awards category for Best Condominium Community, the company also was recognized as Houston Agents' Choice Award Developer of the Year in 2016 and was selected as one of five nominees for Homebuilding Innovator of the Year in Construction Dive's 2016 Dive Awards. From land development and construction to sales and marketing, Surge Homes is involved in every aspect of creating these new homes, which are located in the most desirable Inner Loop areas. Ben Lemieux, chairman, Louis Conrad, president, and David Modlin, vice president of development and construction, each bring more than 28 years of experience in real estate development, management and consulting. Their previous developments total more than 4,000 homes and include master-planned communities, houses and condominiums throughout the U.S. and Canada.