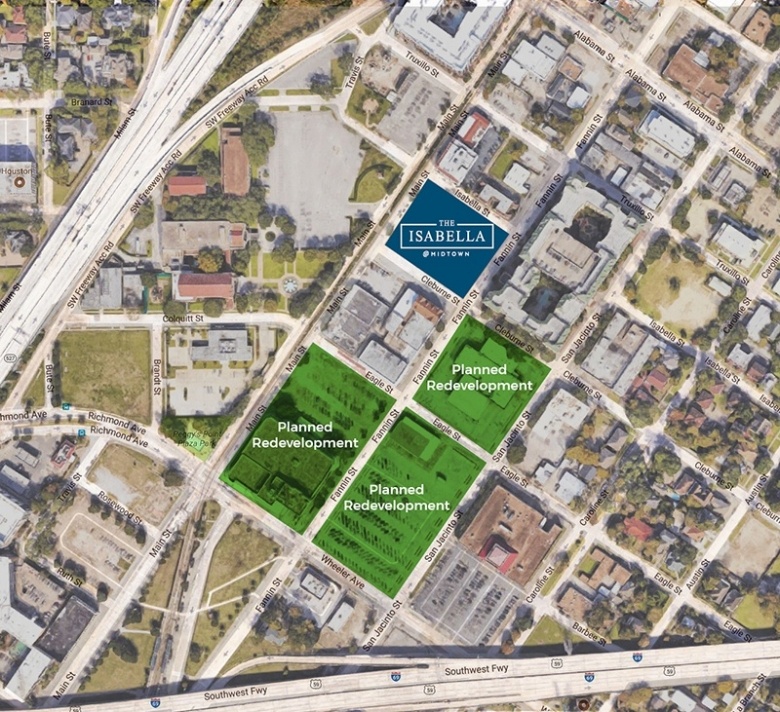 Houston's Midtown neighborhood is enjoying a large influx of private and public investments to redevelop and manicure the area. Now, with the decision by Rice Management Co. to buy out the remainder of the Sears lease at 4201 Main St. and Highway 59, another major construction project will take place just two blocks away. The department store will close in January, making way for options that will contribute to the ongoing revitalization of the area.
That's great news for The Isabella at Midtown VIP certificate holders because the redevelopment of these tracts of land means millions of dollars in improvements will come to the area surrounding this Surge Homes Main Street condo community. In addition to the land secured through the lease buyout, Rice Management Co., who is responsible for the stewardship of a $5.3 billion endowment fund for Rice University, acquired approximately three contiguous acres owned by Sears, thereby making a total of 9.4 acres available for redevelopment.
"The Rice Management Company will initiate a yearlong study to consider options that contribute to the ongoing revitalization of the surrounding community as well as the city's broader economic strength. In this process, we'll consult with many actors and experts, including the Urban Land Institute, city officials and our own Kinder Institute for Urban Research," said David Leebron, president of Rice University, in a statement to the Houston Chronicle. "This is another dimension of Rice's enthusiastic engagement with the city of Houston, while at the same time assuring a return to the university's endowment in support of our missions of education, research and community service."
Given the success of other similar projects around the Inner Loop, excitement is building that the new development will be a big contributor to the dynamic, walkable, urban scene that already is happening around the Midtown neighborhood.