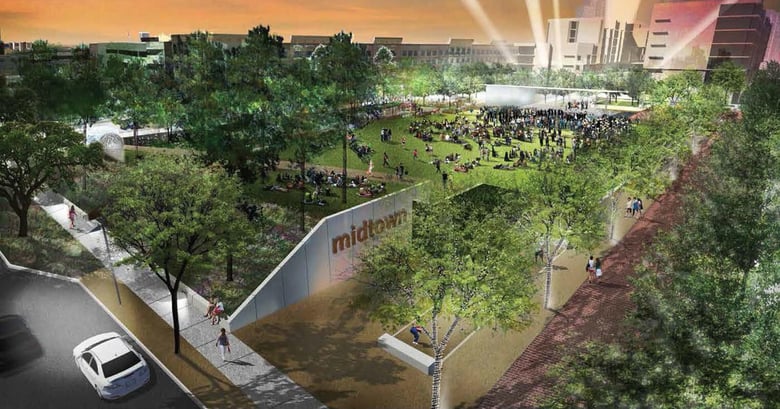 Midtown is a popular area already filled with legions of great dining options, hopping music venues, and cool bars and lounges. In this pedestrian-friendly, walkable neighborhood, you can even rent bicycles for the hour or day.
So, imagine how excited Houstonians are with the development of the sprawling 2 ½ -acre Midtown Park. It's like an extra dessert after an already perfect treat. For those living at The Isabella at Midtown or Parc at Midtown, there's also a cherry on top: Residing at one of these Surge Homes communities puts you within minutes of the Midtown Park action.
A "Playground" for All
When the park opens later this year, people will flock to an expansive great lawn, let loose at the kids' recreational area with interactive water features, peruse the gardens, and stroll the end-to-end art walk. Even Houston pups will be jazzed with the Reliant dog run. Major art installations and family-friendly events will provide ever-changing reasons to visit, as will the open-air pavilion and stage area that promise popular concerts and performances.
Progress Almost Complete
To date, construction of the park is about 85 percent complete with final projects, such as the development of a restaurant, expected to wrap in May 2018. A concert schedule is in the works, and upcoming events, such as National Night Out (October 3) are listed on social media. Visitors can also use the 400-spot parking garage.
Midtown Park is another great nearby amenity for Surge Homes residents looking for fun and relaxation just a short walk or METRORail ride from their condos and townhomes. It's all part of living in one of the most dynamic and exciting neighborhood inside the Loop.
From The Isabella at Midtown: 13-minute walk
From Parc at Midtown: 14-minute walk
Rendering courtesy of: Design Workshop